9. The name Ithaki derives from the Homerian word Ithys which means straight. This leads us to assume that the beaches of Ithaki must be defined by straight line shorelines.
The only reason why during the Homeric era the Paliki peninsula is given the name of Ithaca is this alignment.
The name Ithys means straight.
The photographs are from Lepeda and Loggo near Lixouri
.
10. The adjective used by Homer to describe Athena in moments where she scandalously supports Odysseus, Telemachus and Penelope presumably like a fellow compatriot is Pallas-ΠΑΛΛΑΣ and this is one more reason to prove that Homer's Ithaka is Cephalonian Paliki.
​
Moreover, Pal-las means pulsating stone
,
​
11. Telemachos's journey to Pylos, lasted one night to go and one night plus half a day to return since he disembarked in another port of Ithaca.​
​
The distance between the two ports as we analysed in 16th Rhapsody (π΄) is indeed half a day.
This point refutes almost all theories, because they place the two ports close to each other (Lefkada). The new Ithaca and Paxoi, as well as Assos of Eryssos are very "little" places to fit this difference. Moreover, Poros is gimmicking again since he places Telemachus's arrival in Skala. He also organises "Telemachus" running competitions there and closer to Pylos. This means that he would wish Telemachus's departure to last longer than his return which is the opposite.
Paliki and Telemachus follow Athena's order and direct the ship initially toward Ehinades, Arkoudi – Atoko; next morning they observed Fiskardo; they avoided Asteris's ambush on the left well inside the depth of the dangerous channel. From there, they ended up in Athera where, scandalously, coincided with Odysseus's arrival from the North. Odysseus was travelling from Scheria – Corfu one day earlier so their meeting could take place in Evmaeus hut in the remote areas of Ithaca (Atheras) – the first Northern seashore. There they could meet in their convenience away from the city.
…There, they would have a quiet chat and organize the suitors' massacre!.
Is Odyssey the work of one man? It's about an Incompatible and inviolable theatrical production directed in real time, real places and events! Amongst his other qualities Homer was a great director.
​
12. Taphians and Ithacians were neighbours. In fact, Antinoos's father had committed a piratic thuggery against the Thesprotians along with Taphian bandits. While they were COMING together toward Taphos and Ithaca, Thesprotians whould have massacred them (they would hang them upside down and would tear their hearts out like the Incas did), however Odysseus stopped them dead in their tracks!
Taphios is behind Paliki.
In Laertes's years orgies of contraband and other illegal activities took place there in secrecy. The name was saved luckily by Christian sources not of course in order to resurrect Ithaca and Athena who supported Odysseus. The name was saved accidentally.
This fact is ignored by everyone, so Taphians are placed wherever they wish, since they have forgotten that the truth lies only in Homer's descriptions and not in the imagination of those who paraphrase him.
A request to them. "Don't play games with Taphian smugglers and traffickers (they sold Evmaeus to Laertes when he was young) they would assault you and will sink your ship"!


​
13
. Streams and small rivers that run
throughout the year
, which we referred to in a previous note, reject the theories of contemporary barren Ithaca. As Athena tells Odysseus:​
«…
ἐν δ' ἀρδμοὶ
ἐπηετανοὶ
παρέασι.
τῶ τοι, ξεῖν', Ἰθάκης γε καὶ ἐς Τροίην ὄνομ' ἵκει
…»
Odyssey, Book 13, Lines 247-248.​
…There are small rivers there that run throughout the year (ἐπηετανοὶ).
Moreover, the Corinthian clay containers exhibited in Vathy museum (new Ithaca – Thiaki, post Corinthian colony), reveal that in the archaic era as well as during the classical antiquity, Thiaki, post Corinthian colony, imported water in a place where the owners were traditionally enemies of the Athenian allies of Cephalonia and Kerkyra – Corfu.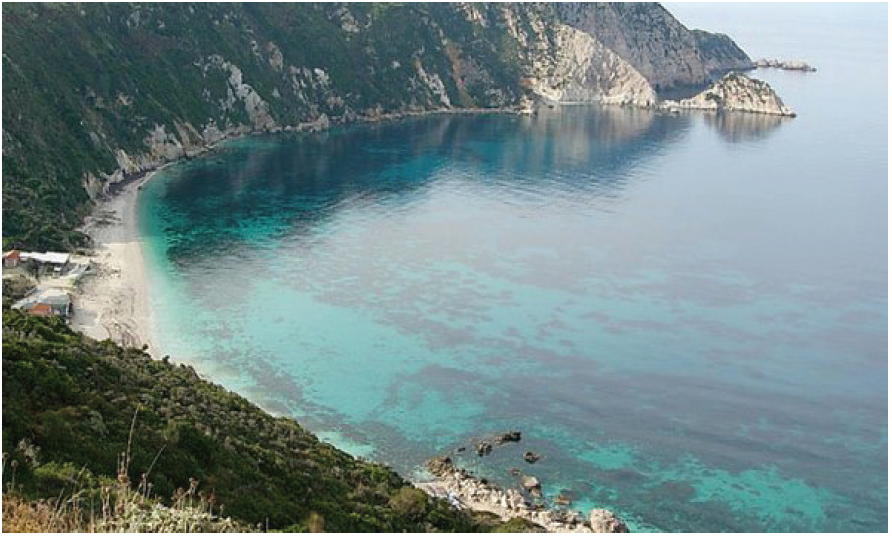 The name of Petani in western Paliki of Kefallinia comes
from the Homeric word '' ἐπηετανοὶ '', which is related to the year,
the annual year, for one year, the entire year, an abundant year.
On this beach the water supply is evident from the rich flora
and if you dig in the sand, even a little you find brackish water.
Opposite and to the left of Petani is the beautiful small beach of St. Helen
.
​
14. You can reach Homeric Ithaca on foot!​
Εxcept from places afar like Sicily where a ship is needed:​
«… τοὺς ξείνους ἐν νηῒ πολυκλήϊδι
βαλόντες ἐς Σικελοὺς πέμψωμεν, …»
Odyssey, Book 20, Lines 382, 383​
… As from afar arrive friends of Odysseus:
«… ἀπὸ Σικανίης δεῦρ' ἐλθέμεν οὐκ ἐθέλοντα·
νηῦς δέ μοι ἥδ' ἕστηκεν ἐπ' ἀγροῦ νόσφι πόληος. …»
Odyssey, Book 24, Lines΄ 307-308​
… As the arrival to King Eheton:
«…
ἄφαρ δέ σε νηῒ μελαίνῃ εἰς Ἔχετον βασιλῆα
, …»
Odyssey, Book 21, Lines 307,308​
… As Telemachus's journey to and from Pylos (see Books 2, 3, & 15); as Odysseus arrived from Phaeacians. (see Book 13)…
… Ithaca belongs to a wide geographical area from where a wondering beggar can reach
ON FOOT
walking on land.
This is the basic point of Lefkada and totally rejects theories from Thiaki and Paxoi. Theories of Poros and Assos simply survive while the only theory which could front even Lefkada in "its own house" in its own theory, is Paliki!
Reason being that reaching Ithaca by foot from the other side is something difficult for a Taphian leader (Book 1), as in Books 14 & 16 (twice) for a wondering beggar.​
Moreover, for Lefkada reaching across from the Acarnanian cost is very easy but to Paliki from the rest of Cephalonia is very hard due to the cliffs and the rocks of Skavdolites.​
SIXTEEN INDISPUTABLE ARGUMENTS
: HOMERC ITHACA IS CEPHALONIA'S PALIKI part I.
https://homericithaca.com/threads/67/
SIXTEEN INDISPUTABLE ARGUMENTS
: HOMERC ITHACA IS CEPHALONIA'S PALIKI part II.
https://homericithaca.com/threads/68/
SIXTEEN INDISPUTABLE ARGUMENTS
: HOMERC ITHACA IS CEPHALONIA'S PALIKI part IIΙ.
https://homericithaca.com/threads/69/
SIXTEEN INDISPUTABLE ARGUMENTS
: HOMERC ITHACA IS CEPHALONIA'S PALIKI part IV.
https://homericithaca.com/threads/70/
​

​
Τελευταία επεξεργασία: