​
3. From all of the above Ithaca is the westernmost and that's the reason it's referred to as ''ἐυδείελον – with beautiful sunsets ''.​
Odyssey, Book 9, Lines 25-26:
«…Ithaca itself lies lower and further to the West,
opposite other islands extending to the East towards the sun,…»​
Sunrise is delayed here since it is hidden by Ainos!​
As emphasized, all other candidate Ithacas face the sun! It is also a lowland as is Paliki, compared with the rest of Cephalonia.​
This argument eliminates Poros and Thiaki as being Homer's Ithaca. It could have been Lefkada or Assos if we turned the map slightly to the left...​
​
4. The rest of the islands apart from Ithaca lay between it and Elis.​
Odyssey, Book 21 , Lines 346-347:
«...
οὔθ᾿ ὅσσοι κραναὴν Ἰθάκην κάτα κοιρανέουσιν,
οὔθ᾿ ὅσσοι νήσοισι πρὸς Ἤλιδος ἱπποβότοιο
...
»
«...
not all those who lord it in rocky side of Ithaca (on the castles of the hills),
or in the islands towards horse-pasturing Elis
....»​
This argument eliminates Poros and Thiaki as being Homer's Ithaca.​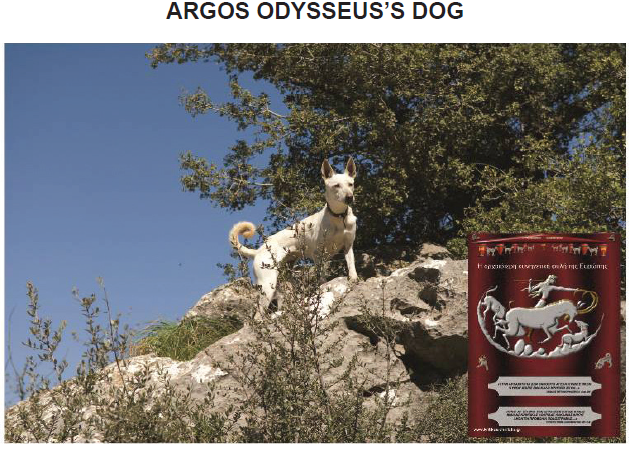 5. When Argos, Odysseus's dog was taken for hunting by youths, besides apart from hares it also hunted roe deer and wild goats! Where can one find animals of this kind in contemporary Ithaca or Paxoi? This argument removes them from the list of candidates for Homer's Ithaca.
Odyssey, Book 17, Lines 294,295:
«…Τὸν δὲ πάροιθεν ἀγίνεσκον νέοι ἄνδρες
αἶγας ἐπ᾽ ἀγροτέρας ἠδὲ πρόκας ἠδὲ λαγωούς· ...»
«…In days past the young men were wont to take the hound to hunt
the wild goats, and deer, and hares; ...»​
During the Homeric period such fauna could only be found in Cephalonia, consequently Argos assists us to realise that Homer's Ithaca can only be Cephalonia.​
​
This study was completed in collaboration
with FRIENDS OF CRETAN TRACERS CLUB
.
​
6. Simple rafts were the means of crossing from Ithaca municipality to that of Cephalonia. That was the way used by Odysseus's shepherd Philoetius who since his young age kept his herds in Cephalonia.
Odyssey, Book 20, Lines 187, 209-210
«…
These had been brought over from the mainland by ferrymen
,…»,
«…
then woe is me for blameless Odysseus, who set me over his cattle, when I was yet a boy, in Cephallenians` municipality
….».​
This evidence debunks Eryssos' Assos, Fiskardo and Poros' theories since you don't need a raft to travel from Cephalonia to … Cephalonia. Similarly, Lefkada's theory is rejected considering that Akarnania and not the municipality of Cephalonia is across Lefkada.
7
. «…
and the ship ran full half her length on the shore
in her swift course, at such pace was she driven by the arms of the rowers
…»
Odyssey, Book 13, Lines 114-115​
Scheria is an island, whose distance from Ithaca is approximately similar to that of Thesprotia - starting point to the Dodoni oracle - from Ithaca; therefore that's Kerkyra – Corfu .
An already known solid sanded seashore was the place used by the Phaeacians to bring Odysseus directly from Scheria – Kerkyra – Corfu, to Cephallonia`s Atheras.
The Northern Port of Homer's Ithaca faces straight toward Phaeacian`s Scheria – Corfu.
It's at this seashore that the sand's thickness allowed half the ship to slide ashore by the impetus exerted by the rowers. This applies only in Athera or Paliki - Cephalonia. As the Afales in Thiaki and Assos of Eryssos face toward the North, Fiscardos', Poros' and Lefkada's theories are rejected.
We have proved that Scheria is Kerkyra – Corfu. That's due to the distances within it, the distance from Homer's Ithaca, it's neighbouring with Thesprotia and Dodoni, also the distance from the matriarchal community islands such as Malta and Gozo, as well as weather phenomena, sea currents and climatic conditions. It is at an Ithaca northern seashore known to them that Phaeacians leave Odysseus.
That way theories regarding Sivoton, Nydri, Lefkada, are debunked. Rejected is also the Paxoi theory because they are close and not an "one night's trip'' on a ship without a steering wheel. Remaining theories such those that consider Phaeacians as imaginary are incompatible with the Homerian thought.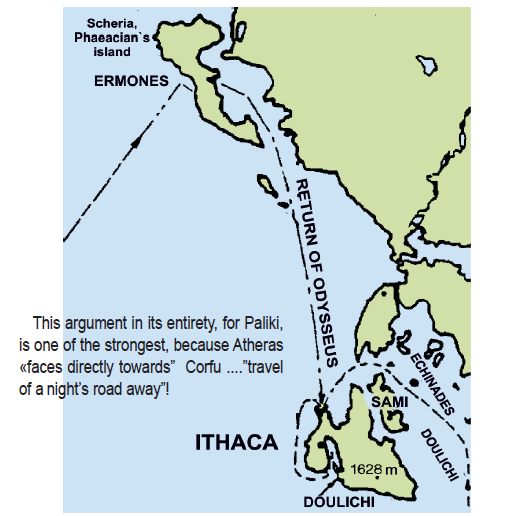 ​
8
. The size of Ithaca should be such, that Telemachus's ship, after his disembarkation, would have been bound to spend the same time to arrive to its port, according to the following: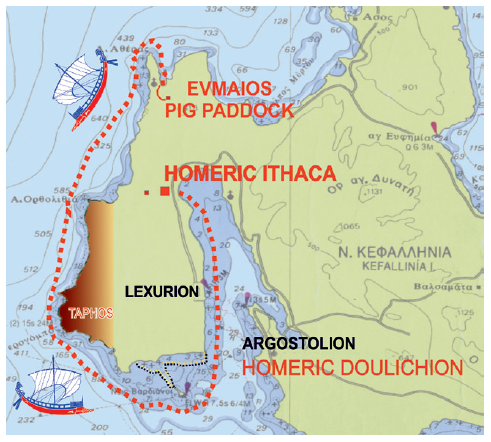 A) The time it took Telemachus to ascend on the slope so he could reach Evmaeus' hut; a point from which the port is not visible. The swineherd could have never observed ship arrivals where Telemachus meets his father. (Od. book 15, 554-557 and book 16, 1-4, Lines 8, an hour). Similarly, the slow access to that point is also confirmed from the sandals reference firmly tied on Telemachus's feet
CONSIDERING
​
B) The time taken for welcoming, having dinner and having some discussions. He asks about his mother, they eat...​
- "Who is the stranger?" Description on Crete and Thesprotia.
- "The stranger should not come to the city, I will send supplies!"
Oddyseus as beggar speaks for a long time. Telemachus explains that he has the people on his side. He analyses the problem with the suitors and sends Evmaeus to Penelope; however, he asks for instructions about/on to see and whom to avoid since of course he does not want to be seen by Laertes. (Od. book 16, 5-155, Lines151, about an hour)
ALSO CONSIDERING
C) The time Evmaeus needs – a three hour walk to reach the palace. There he meets the herald who came on the ship that has just arrived, while the following events occur in the pig paddock: Athena calls Odysseus and transforms him. Telemachus thinks he is a god but he is assured that Odysseus has been transformed by Athena.
A long tearful recognition (nightfall would have occurred).​
- How did you come? On foot?​
- The phaeacians brought me, we hid the gifts with Athena, we have set the plan.​
- Can we by ourselves?​
- We have Athena and her father....​
Instructions of the arrival in the city and perseverance to humiliations, house weapons΄ hiding, secret planning, test of loyalty of everyone. Other details. (Od. Book 16, 156-322, Lines 167, about three hours).
Complete duration of those events about five hours, Lines from Od. Book 15, 554- Od. Book 16, 322. 326 Lines in total.
Nevertheless, the time it took Odysseus to cover all this distance with a walking stick disguised as a beggar and pacing secretly behind Evmaeus, along the steep path should have been some four hours. They left after lunch and arrived before dinner.
It's obvious that the duration of the ship's journey is very long. It lasted as much as the ensuing events from disembarkment of Telemachus; his uphill walk from the seashore; the discussions to be completed; Evmaios to reach the palace and to meet the herald in front of Penelope.
On the contrary, the distance between Sybota and Nydri is short… the possible distances in Thiaki are infinitesimal. Only the circumnavigation of Paliki could meet those specifications.
This analysis discards three posibilites:
- The journey St Nikitas – Nydri, since neither port with jetties existed in St Nikitas, nor Odysseus could reach Evmaeus a short distance outside of Nydri with many hours of mountain climbing.
- Vathi in Thiaki and the journey Afales, Frikes, Stavros, Vathi, since the roadway so Evmaeus could go there every now and then from the rest to Vathi, is impossible.​
- Karavomylos, Melissani - Poros, Tzanata - Skala, "First port", neither co-related nor considered for discussion.​
Please study this evidence, to find if it is possible to pinpoint another candidate as Homer's Ithaca!​
Nevertheless, all of these fit absolutely into Paliki.​
​
Τελευταία επεξεργασία: